Our 30-minute 'twisted fairytale' Little Boy Blue was completed in early 2016. The film has been accepted into 28 film festivals around the world including the prestigious St Kilda Film Festival, Screamfest Los Angeles and Moscow International Film Festival. It has picked up numerous awards and nominations across directing, acting, special effects, music, sound design and more.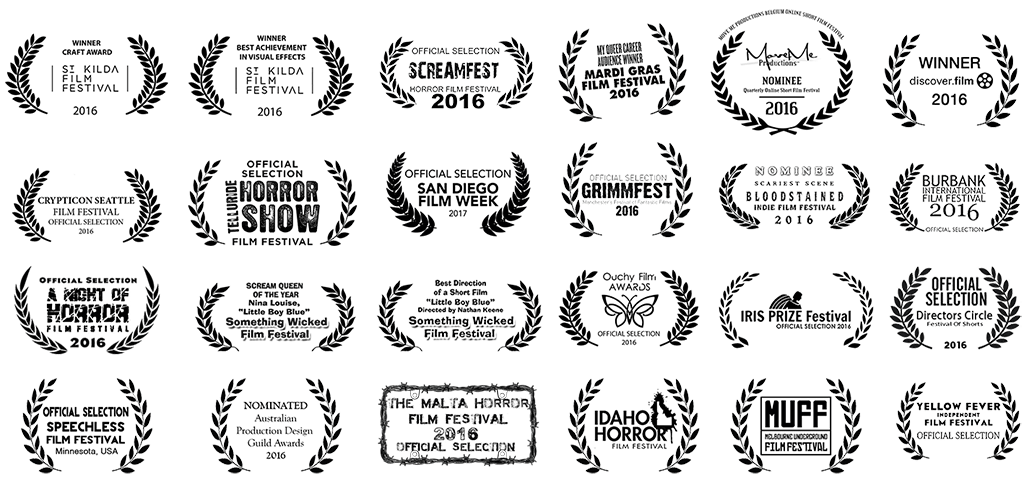 "A genuine shocker, but utterly ravishing to look at, Little Boy Blue most definitely isn't one for the squeamish or faint of heart."
Gay Essential Film Review
On a rural farm, a lonely girl named Eva (Nina Louise) discovers a young boy being held captive and tortured in a neighbouring farm's barn. She forms a friendship with him and plots to free him, but first she must face the twisted farmer Mr Welch (Harry Peek), as well as her own dark desires.
Combining elements of drama, horror, thriller and fantasy, the film creates a unique cinematic experience. Little Boy Blue is a powerful story of a child's fight to break free from her cage and reclaim her true identity.
Little Boy Blue is directed by Nathan Keene, produced by Will Faulkner and Joy Baines, and written by Faulkner and Keene. The film was shot entirely in rural Australia from December 2014 to March 2015 utilising a local cast and crew.
• The idea for the film was first conjured in 2009 and script was developed over the following four years.
• Lead actress Nina Louise and Harry Peek (Mr Welch) had never acted before.
• The film was shot in four parts over December 2014, January and March 2015.
• The barn used in the film is the remains of the set for Clark Kent's family home in the 2006 Hollywood film Superman Returns.
• The film was shot in regional New South Wales, Australia, and shows off the natural beauty of the state and country. The barn is located near Quirindi, five hours north of Sydney.
• The communities of Quirindi and Tamworth helped make the film, with strangers often generously donating time or resources to make the large-scale short film come together.
Directed by: Nathan Keene
Produced by: Will Faulkner & Joy Baines
Written by: Will Faulkner & Nathan Keene
DOP: Ashley Barron
Production Designer: Kate Englefield
Key Cast: Nina Louise, Harry Peek, Jessica King, Michael Thomson, Julie-Anne Breen
4K | Colour | 30 minutes
This film contains adult themes and adult content. It has not been rated and should not be viewed by anyone under the age of 18.